Weight Loss and Supplements
Welcome to the nutrition program
If you've tried a long string of diet programs, but can't seem to keep long-term results, it's time for a guided nutritional program with a registered dietitian. Toye Jackman, our registered dietitian, oversees the Weight Management program to aid the journey to health and wellness. Dr. Jurado and our registered dietitian with guide and support you through your weight loss journey with a diet program and tailored exercise plans. Take a proactive approach to life with our nutrition planning programs! Book an appointment with Toye at MD Touch Aesthetics and Wellness by phone now.
WEEK PROGRAM
Five Weeks Minimum

Stand Alone Individualized Dietary Plan

Including: Turbo-Fit: Glutathione (weekly injectable)

Including: Secretropin: MIC / Semaglutide (weekly injectable)
• Individualized dietary plan, coaching, and counseling by our Dietitian;
• Intermittent fasting protocol designed by our Dietitian;
• Blood work (Comprehensive Metabolic Panel);
• Weekly injectable supplements administered by our nursing staff and weight tracking;
• Weekly Interaction with Dietitian via Well World (outside of your weekly visit to the clinic, the Dietitian educates and counsels you via the application);
• Monthly body composition analysis (via BIA machine) and progress pictures;
• Access to Well World nutrition platform (recipes, shopping lists, supplements, motivational quotes, wellness tips, and hourly reminders).
How does the diet program work?
The diet program at MD Touch Aesthetics & Wellness is a medical weight loss program that a trained nutritionist supervises. You'll get a full exam and blood work before starting the program, and the dedicated team will explain all the details of your diet plan so you can enjoy maximum success.
Our programs include:
For Weight Loss and Muscle gain programs
Pre-Pregnancy Nutrition Planning
Pregnancy Nutrition Counseling
Postpartum Nutrition Counseling
Pre-Lipo-Sculpting Nutrition Counseling
Pre-Lipo-Sculpting Dietary Program
Post-Lipo-Sculpting Nutrition Counseling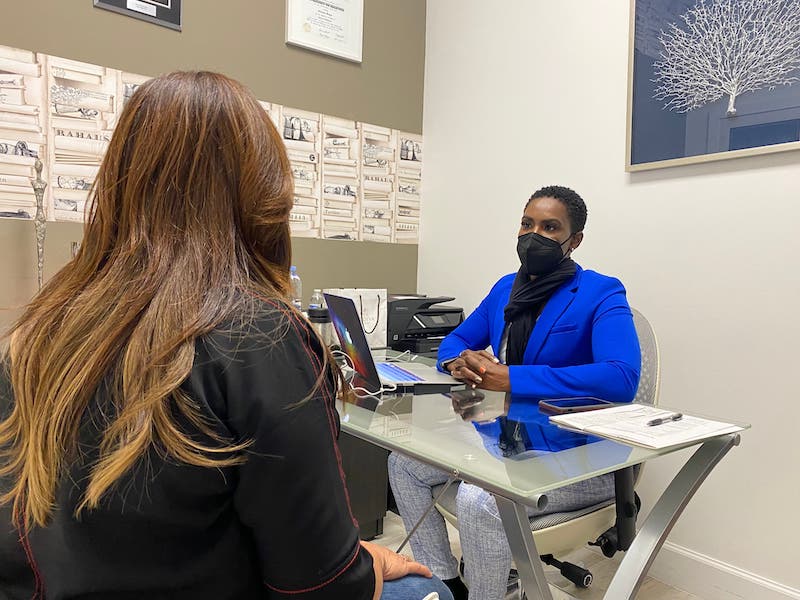 What kind of weight loss support will I get?
The MD Touch Aesthetics & Wellness team is here to guide and support you through the diet program, starting with the first consultation with the doctor and registered dietitian. You'll get regular supervision, guidance, results, and monitoring during your weight loss journey. Your care provider also can help you tailor exercise for maximum weight loss and health benefits. Toye focuses on tailoring programs for every patient, including educational materials, step-by-step support, and wellness counseling to help you achieve your weight loss goals, improve your health, and live a happier life. If you run into obstacles or have questions while on the diet plan, you can get the care you need right away. Our team is here to help you take the steps necessary to make a long-term lifestyle change.
Medical-Grade Supplements
When you want to enjoy optimal health, you can do so holistically, thanks to the medical-grade supplements at MD Touch Aesthetics & Wellness in Coral Springs, Florida. The experienced team of physicians and wellness experts carefully chooses anti-aging and wellness protocols that give you the maximum benefits from all-natural substances.
Glutathione is a peptide found in plants and animals. It is a powerful antioxidant produced by the liver to protect the body against free radicals, peroxides, and heavy metals. Glutathione also eliminates poisons such as drugs and pollutants from our bodies.
Low glutathione levels have been associated with higher cancer risks, Type 2 diabetes, hepatitis, and Parkinson's disease. You can take glutathione as a supplement or boost glutathione production in the body. Taking curcumin, selenium, vitamin C, and vitamin E can help the liver create glutathione. Sulfur-containing foods like meat and certain vegetables can also boost production.
Glutathione is essential for the immune system's proper functioning and is vital in building and repairing tissue. It acts as an important antioxidant, which helps protect your body from damage to cells caused by free radicals.
Semaglutide injection is in a class of medications called incretin mimetics. It works by helping the pancreas to release the right amount of insulin when blood sugar levels are high. Insulin helps move sugar from the blood into other body tissues where it is used for energy.
Delays stomach emptying. This leads to a feeling of fullness and satisfaction with smaller meal sizes.
Slows Intestinal Motility
Lowers blood sugars, in part by reducing the production of sugar in the liver.
Stimulates insulin secretion by the pancreas.
Quick View
MD Touch Aesthetics and Wellness is your destination for transformation.
MD Touch Aesthetics and Wellness operates in a state-of-the-art facility located in the beautiful city of Coral Springs, FL.  The facility has been designed with your comfort in mind!
Our physicians' mission is to bring high-quality, professional, and innovative healthcare to the South Florida community. Each of our doctors are highly trained in the latest surgical techniques and medical advancements, offering a wide array of procedures in our beautiful office. At MD Touch Aesthetics and Wellness, our board-certified physicians are dedicated to providing you with the individualized and professional care you require.